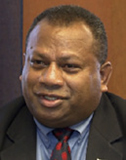 Inia Seruiratu
Minister for Agriculture, Rural and Maritime Development, and National Disaster Management, Fiji
---
Biography
Inia Seruiratu is Fiji's Minister for Agriculture, Rural & Maritime Development, and National Disaster Management. As Fiji's High-Level Climate Champion, Minister Seruiratu is responsible for advancing the Global Climate Action Agenda. In this role, he follows his French and Moroccan predecessors – Ms Laurence Tubiana, former French Ambassador for climate change, and Ms Hakima El Haite, former Minister Delegate in charge of Environment of Morocco. The Agenda laid out a roadmap aimed at enhancing partnerships and cooperative action among governments, cities, businesses, investors and citizens, to accelerate efforts to reduce greenhouse gas emissions and to facilitate support to help vulnerable nations adapt to the effects of climate change.
As a minister in the FijiFirst Government, Mr Seruiratu has led efforts to better prepare communities and enhance their resilience to the impacts of natural disasters, which are occurring with greater intensity due to climate change. This process has become even more urgent following the devastation of Tropical Cyclone Winston, which left 44 people dead and caused more than USD2.8 billion worth of damage in Fiji. The Minister plans to use his position as Climate Champion to drive global action on this crucial issue and to explore products and models that attract private sector participation in the area of adaptation finance.
Mr Seruiratu joined the Native Land Development Corporation in 1984 before joining the Republic of Fiji Military Forces in 1987 as a Commissioned Officer.
His career in the civil service began in 2007 when he was appointed the Commissioner of Fiji's Northern Division. In 2011, he was appointed as the Permanent Secretary and soon after the Minister for Agriculture, Rural and Maritime Development and National Disaster Management.