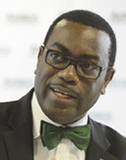 Akinwumi Ayodeji Adesina
President, African Development Bank
African Development Bank (AfDB)
---
Biography
Mr. Akinwumi Ayodeji Adesina is the 8th elected President of the African Development Bank Group. He was elected to the position on May 28, 2015 by the Bank's Board of Governors at its Annual Meetings in Abidjan, Côte d'Ivoire. He took office at the Bank's headquarters in Abidjan on September 1, 2015.
Mr. Adesina, 62, is a distinguished development economist and agricultural development expert with 25 years of international experience. He is the first Nigerian to serve as President of the Bank Group. He served as Nigeria's Minister of Agriculture and Rural Development from 2011 to 2015, during which time he implemented bold policy reforms in the fertilizer sector and pursued innovative agricultural investment programs to expand opportunities for the private sector.
Mr. Adesina has received several global awards for his leadership and work in agriculture. In 2010, UN SG Ban Ki-moon appointed him as one of 17 global leaders to spearhead the Millennium Development Goals, along with Bill Gates, the Spanish Prime Minister, and the President of Rwanda. He was named Person of the Year by Forbes Africa magazine in 2013.
Mr. Adesina earned a first-class honours Bachelor's degree in Agricultural Economics from the University of Ife, Nigeria in 1981. In 1988 he completed a PhD in Agricultural Economics at Purdue University in the United States, where he won the Outstanding PhD Thesis Award for his research work. He also won the prestigious Rockefeller Foundation Social Science Post-Doctoral Fellowship in 1988, which launched his international career in global agricultural development.
Adesina speaks fluent French and English.