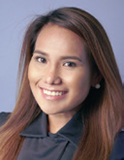 Cherrie Atilano
Founder & Chief Executive Officer, AGREA Agricultural Systems International Inc.
AGREA Agricultural Systems International Inc.
---
Biography
Cherrie Atilano is the founder and CEO of AGREA Agricultural Systems International, Inc., an agro-social enterprise that aims to help eradicate poverty for farming and fishing families in order to alleviate the effects of climate change and establish food security in the Philippines. AGREA has been mobilizing communities, businesses, academia, local and national governments, and international partners to bring an "Ecology of Dignity" to farming and fishing communities on the island of Marinduque.
Previously, Atilano worked as a consultant with the Department of Agrarian Reform in the Philippines and helped to form 241 cooperatives of smallholder farmers in the country. She started teaching farmers at the age of 12, has 19 years of vast experience in Sustainable Food Systems from organising smallholder farmers into sustainable cooperative, technology transfer, developing inclusive agri-business, connecting farmers to market, government support and financial institutions.
She is making farming desirable for young people and an advocate of agri-technology. She is the recipient of numerous honours and awards, including Inspiring Filipina Entrepreneur in 2017, The Outstanding Women in Nation's Service Award in 2016, and Ten Outstanding Students of the Philippines in 2007. She graduated Magna Cum Laude, with a Bachelor's in Agriculture from Visayas State University.