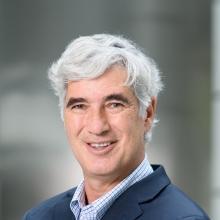 Dr. Juan Pablo Uribe
Director of The Global Financing Facility for Women, Children and Adolescents (GFF) and Global Director for Health, Nutrition and Population, World Bank
---
Biography
Dr. Uribe is a medical doctor specialized in public health and public administration who until recently, was the CEO of United Healthcare/Banmédica healthcare providers for Chile and Peru. He also served as Minister of Health and Social Protection for Colombia and as a World Bank manager for Health, Nutrition and Population in East Asia and Pacific.
Dr. Uribe has contributed significantly to the development of public health, health systems and public policies.  His experience across the public and private sectors will continue to deepen engagement with key partners such as multilateral organizations, donors, CSOs and the private sector to strengthen the GFF partnership's impact in support of country plans.
In addition to the GFF, Dr. Uribe is the World Bank's Global Director for Health, Nutrition and Population. Given the importance and complementary role of the GFF to the World Bank, his dual role will strengthen synergies across sectors such as education, social protection and governance as well as across the World Bank Group, including fostering collaboration with the IFC, to maximize the impact of the GFF-World Bank partnership.