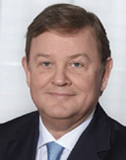 Feike Sijbesma
Honorary Chairman, Royal DSM
---
Biography
In 1987, he joined the Industrial Pharmaceuticals division of Royal Gist-brocades NV, where he was responsible for strategic planning and business development. From 1990 to 1993, he was appointed the division's Marketing & Sales Director. Thereafter (1993) he was given leadership of Savory Ingredients, later on a business unit of Gist-brocades' Food Specialties Division. In 1995, he was made director of that division and joined the Gist-brocades' Executive Committee. Following the acquisition by DSM in 1998, he became Director of the business group DSM Food Specialties.
In 2000, Sijbesma joined the Managing Board of DSM, responsible for the food and pharma activities. In 2002 and 2003 he led the acquisition of the vitamins & fine chemicals division of the Swiss pharmaceutical company Roche. In subsequent years, he led from Basel (Switzerland) the integration of this division into DSM, in addition to his other responsibilities as a member of the Managing Board. From 2007 to 2022 Feike Sijbesma served as the CEO of DSM.
Feike Sijbesma has transformed DSM and its portfolio through various divestments and acquisitions. Under his leadership, DSM repositioned itself from a chemical company into a Life Sciences & Materials Sciences company, focusing on health, nutrition & materials, expressed in a new brand of which "Bright Science. Brighter Living" forms the core. Feike Sijbesma sees sustainability as both a responsibility and a business driver. Feike Sijbesma has given purpose to the company by the DSM's involvement in amongst other things malnutrition and climate change. He also considers it important for business to have more women at the top and he sees diversity as increasingly important for DSM as an innovative company. He is committed to develop science as a basis for innovation in order to create brighter lives for people today and generations to come. Currently M. Sijbesma serves as Strategy Advisor to Africa Improved Foods.
Feike Sijbesma is married and has two sons.