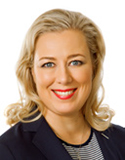 Jutta Urpilainen
European Commissioner for International Partnerships, European Union
---
Biography
As European Commissioner for International Partnerships, Ms Jutta Urpilainen oversees the European Commission's work on international cooperation and sustainable development. She is a strong advocate for gender equality, social justice and youth participation.
Before joining the Commission, Ms Urpilainen served as a Member of the Finnish Parliament, representing her electoral district of Vaasa for almost 17 years, from 2003 to 2019. In 2008, she became the first woman leader of the Social Democratic Party of Finland. From 2011 to 2014, she served as Finland's Deputy Prime Minister and Finance Minister. During that time (2013-14), she became closely involved in development issues, joining the Development Committee of the World Bank Group and IMF and chairing the Finnish National Commission on Sustainable Development. From 2015 to 2019 she sat on Parliament's Committee for Foreign Affairs. She also served as the Foreign Minister's Special Representative on Mediation (2017-19) and chaired the Finnish National Commission for UNESCO (2015-18).
Commissioner Urpilainen has a master's degree in educational science from the University of Jyväskylä. As a student, she took part in the Erasmus exchange programme in Vienna, Austria. Before entering politics, she worked as a teacher in a comprehensive school. She is a longstanding champion of civil society and democracy. She has been a passionate European since her youth, and has chaired many NGOs in her home country, including the UN Association of Finland.
Commissioner Urpilainen was born in 1975. She is married and has two children.