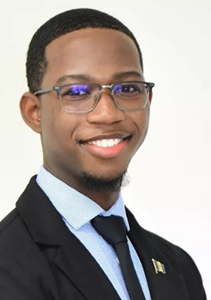 Pierre Cooke Jr.
Prime Minister of Barbados' Youth Parliament and Technical Advisor, Healthy Caribbean Coalition
Healthy Caribbean Coalition
---
Biography
Mr Pierre Cooke, Jr is a Barbados health and human rights advocate. He recently completed his Bachelor of Law at the University of the West Indies, Cave Hill Campus. He will be pursuing a legal certificate at the Hugh Wooding Law School to practice law in the Caribbean and Commonwealth.
The work he has done in the Caribbean and the wider world to raise awareness of childhood obesity prevention and non-communicable diseases (NCDs) amongst young people reflects Mr Cooke Jr's commitment to advocate for the protection of the rights of young people and other vulnerable groups. Moreover, he has been working with major organizations, including the Healthy Caribbean Coalition, NCD Child, the World Health Organization, and the Pan- American Health Organization.
Mr Cooke, Jr has been invited to speak across the world. His voice and unique perspective have influenced governments and civil society organizations in various countries and regions, including London (UK), the United Arab Emirates, Geneva, Switzerland, and the Americas. Pierre has served in youth leadership roles as Representative of the Faculty of Law at the Cave Hill Campus and Youth Prime Minister of the Barbados Youth Parliament. He is currently a youth advisor to the United Nations in Barbados and the Eastern Caribbean.
Mr Cooke Jr's desire to see the development of equitable systems that respects and represents the rights and needs of all people drives his work. He hopes to one day use his wealth of knowledge to advance human rights protection in the Caribbean and across the world. To balance his work and personal life, Pierre frequents cafes and beaches across Barbados and enjoys a bit of travelling.