Image
Webinar: financing nutrition through taxation of sugar-sweetened beverages
Webinar: financing nutrition through taxation of sugar-sweetened beverages
October 26, 2023 - Last update: November 8, 2023
Join us for an interactive webinar and discover how the taxation of sugar-sweetened beverages can support nutrition financing. We will be learning from national and global experiences with the Southern African Development Community (SADC) and Capacity for Nutrition (C4N - funded by EU and BMZ).
The webinar will take place on 16 November 2023 from 12:00 EAT (09:00 GMT) to 13:50 EAT (10:50 GMT) and it will benefit from interpretation into English, French and Portuguese.
Register here to attend: bit.ly/WebinarSUN.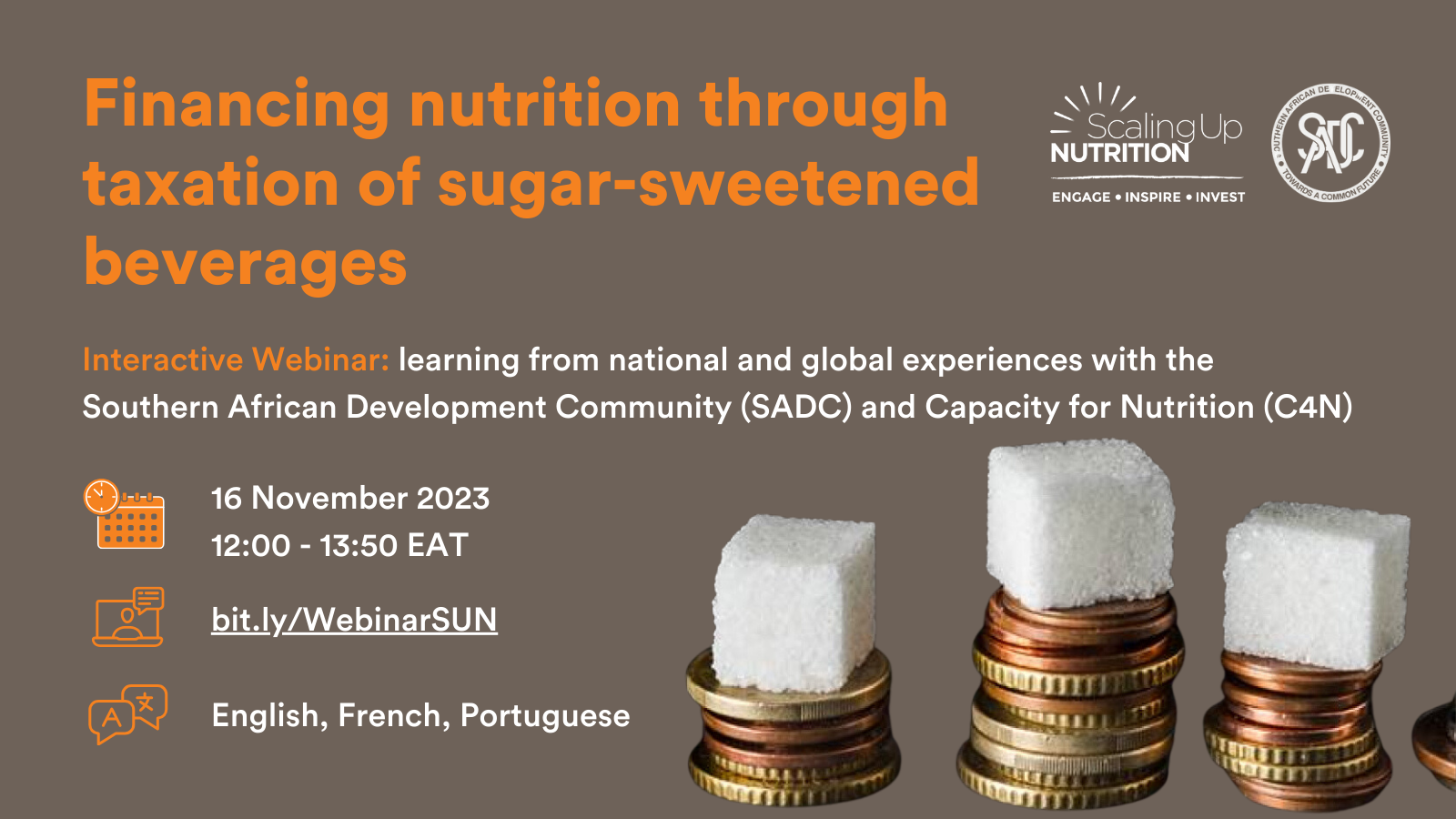 Image
Opening remarks
Opening remarks from Tendai Gunda, SUN Movement Secretariat Regional Representative for Anglophone Africa & Introduction of Professor Thandi Puoane, University of Western Cape
SADC experience sharing
Experiences from the Southern African Development Community (SADC) - Professor Thandi Puoane
Madagascar experience sharing
National experience from Madagascar - (speaker TBC)
Global experience sharing
Global experiences from the Capacity for Nutrition programme (C4N - funded by EU and BMZ) - Dimitrij Konsewitch
Interactive dialogue
Questions/ Experience Sharing from the floor/ Dialogue Session
Closing remarks
Closing remarks by the SUN Movement Secretariat Regional Representative from Francophone Africa, Eve Gossiaux