Image
Ghana launches first National Food-Based Dietary Guidelines
April 6, 2023 - Last update: April 6, 2023
The Ministry of Food and Agriculture in conjunction with the University of Ghana School of Public Health has launched Ghana's first National Food-Based Dietary Guidelines, on 22 February in Accra. In attendance were the Deputy Minister of Food and Agriculture in charge of crops, Hon Yaw Frimpong Addo; WHO Country Representative, Dr. Francis Kasolo; FAO Senior Nutrition and Food Systems Officer, Mphumuzi Sukati; and various representatives of the UN Agencies as well as the Ghana Health Service, members of the research and academic community, and practitioners from diverse backgrounds including health, education, social protection, and food and agriculture.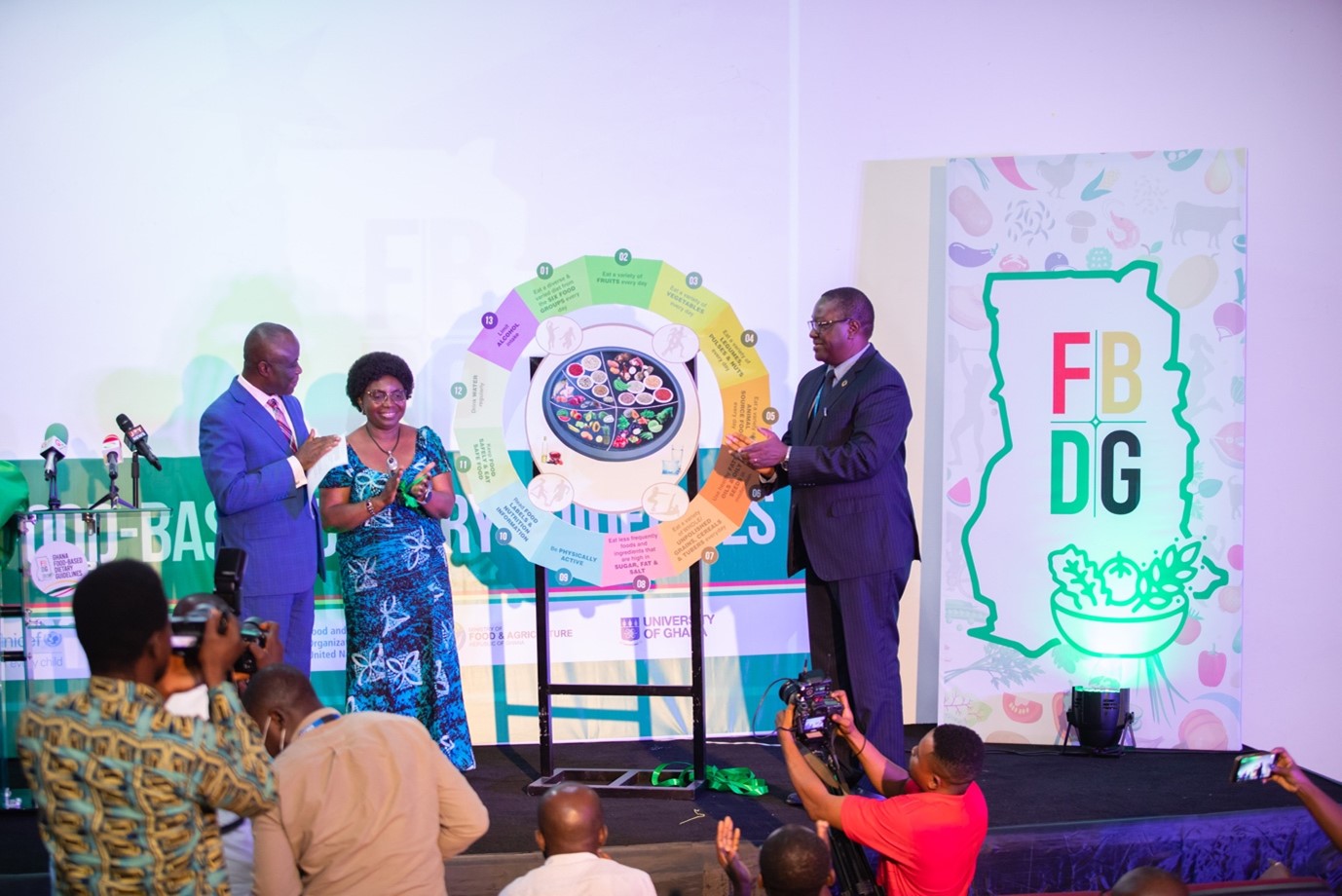 In 2017, the University of Ghana School of Public Health partnered with the Ministry of Food and Agriculture and selected key stakeholders from government and non-government partner institutions to begin the food-based dietary guidelines development process. The process largely adhered to the FAO/WHO's guidance on the development of such guidelines, but with slight modifications resulting from contextual realities related to local capacity and financial resource limitations. Subsequently, a national multisectoral technical task team (MTTT) was established under the joint leadership of the ministry and university, co-chaired by Scaling Up Nutrition Movement Executive Committee member Prof. Richmond Aryeetey.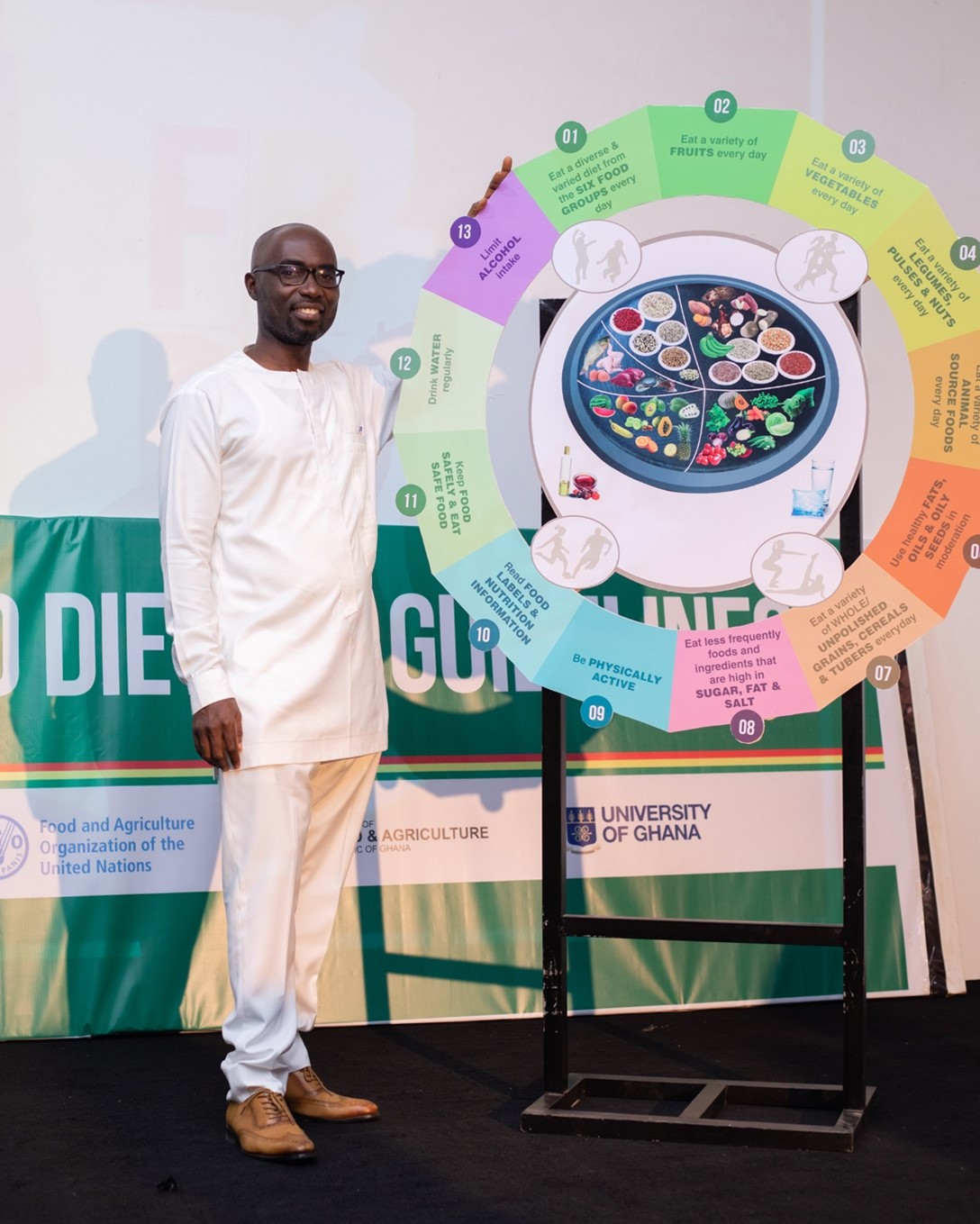 Based on evidence, the MTTT identified and extensively discussed prioritized dietary and nutrition challenges in Ghana. The priority issues identified were child undernutrition, adolescent and adult overweight and obesity, and micronutrient deficiencies across the general population. Malnutrition among the elderly was also identified as a priority challenge.
In 2020, the MTTT began formulating science-based technical recommendations for the food-based dietary guidelines. These technical recommendations focused on an overall message of promoting diet diversity across six main food groups: 1. fruits; 2. vegetables; 3. fat and oils; 4. cereals, grains, roots and tubers; 5. animal source foods; and 6. legumes and nuts. The six food groups were based on evidence of food groups commonly consumed in Ghana, foods that are rich in essential nutrients, and how to easily communicate these food groups to the general public.
These recommendations were subsequently distilled into simple and easy to understand text and images that were pre-tested in selected communities across the country. The pretest involved interviewing male and female adults and adolescents. Their feedback was used to revise and finalize the recommendations. The revised recommendations were then validated by the MTTT and other key stakeholders in both government and non-government agencies who are likely to work with the recommendations. The final product is Ghana's first National Food-Based Dietary Guidelines. The guidelines have been designed to meet the needs of the population of Ghana that are five years and older.
There are seven main recommendations and six complementary recommendations as follows:
Eat a diverse and varied diet from the six food groups every day.

Eat a variety of fruits every day.

Eat a variety of vegetables every day.

Eat a variety of legumes, pulses and nuts every day.

Eat a variety of animal-source foods every day.

Use healthy fats, oils and oily seeds in moderation.

Eat a variety of whole/unpolished grains, cereals and tubers every day.

Eat less frequently, foods and ingredients that are high in sugar, fat and salt.

Be physically active.

Read food labels and nutrition information.

Keep food safely and eat safe food.

Drink water regularly.

Limit alcohol intake.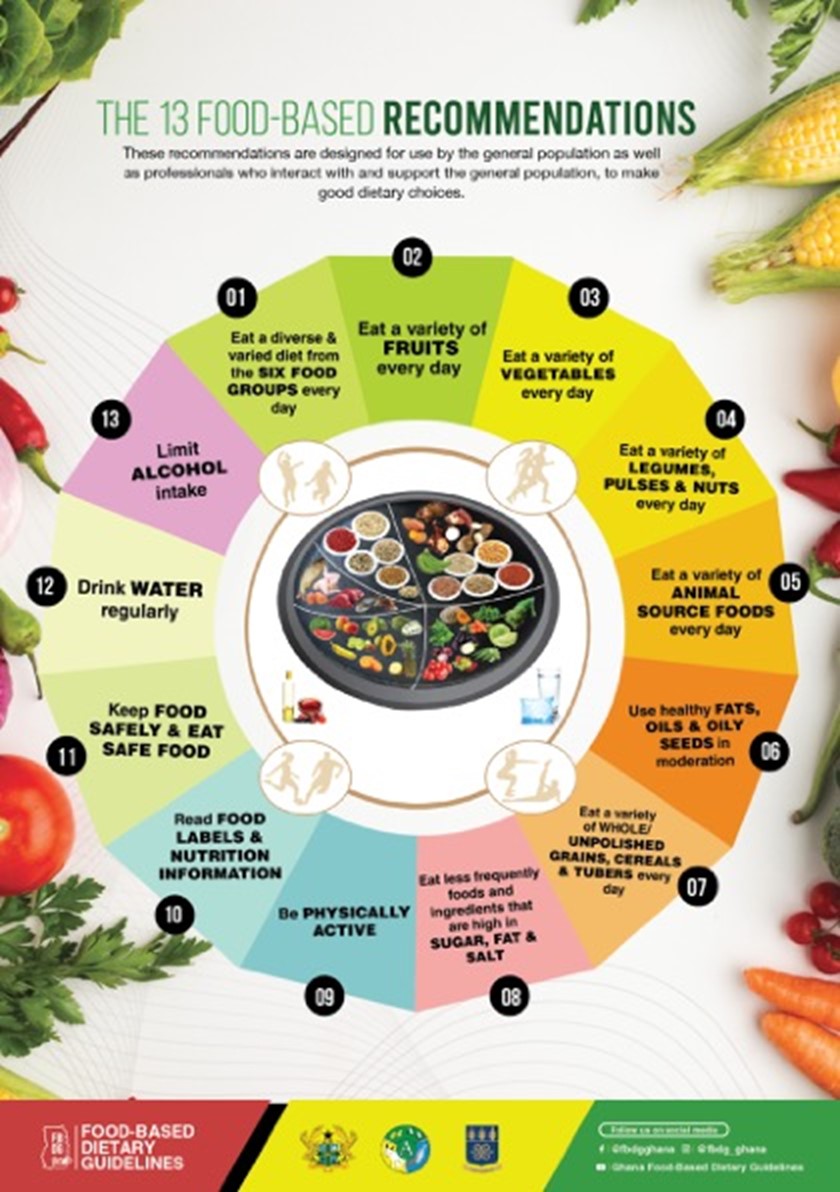 These recommendations are complemented by food system recommendations that are intended to create an enabling environment for successful adherence to the food-based dietary guidelines. The recommendations are expected to guide the choices of individuals as well as population-level interventions such as school feeding and other institutional food-based interventions.
More information:
Please contact Claudia Ewa for further information via implement@ug.edu.gh
Access Ghana's food-based dietary guidelines document here:
https://res.cloudinary.com/dltpgmjmq/image/upload/q_auto:good/user-media-prod/Ghana_Food-Based_Dietary_Guidelines_2023_tcaeqt