Image
Kenya steps up political, multisector, and interdisciplinary actions towards nutrition resilience
May 3, 2023 - Last update: May 3, 2023
"Eradicating all forms of malnutrition requires interdisciplinary actions and a multisectoral and multi-stakeholder approach. In Kenya, this collaborative approach has contributed to progress in key nutrition indicators as reported in the recently released Kenya Demographic and Health Survey (KDHS) 2022" said Dr. Josephine Mburu, Ministry of Health-State Department for Public Health and Professional Standards, Kenya.
To further advance this approach, Kenya hosted the fourth edition of its National Nutrition Symposium under the theme "Eradicating malnutrition in all its forms: step up political, multisector, and interdisciplinary actions towards nutrition resilience". 
The symposium, which was organized in Nairobi on 14 and 15 April 2023, provided an opportunity to disseminate existing evidence on methods and best practices to address malnutrition with legislators and decision makers. Moreover, the event served as a platform to raise awareness around the Scaling Up Nutrition (SUN) Movement's multisectoral and multi-stakeholder approach in Kenya, while launching and disseminating various nutrition-specific and nutrition-sensitive strategy documents and initiatives.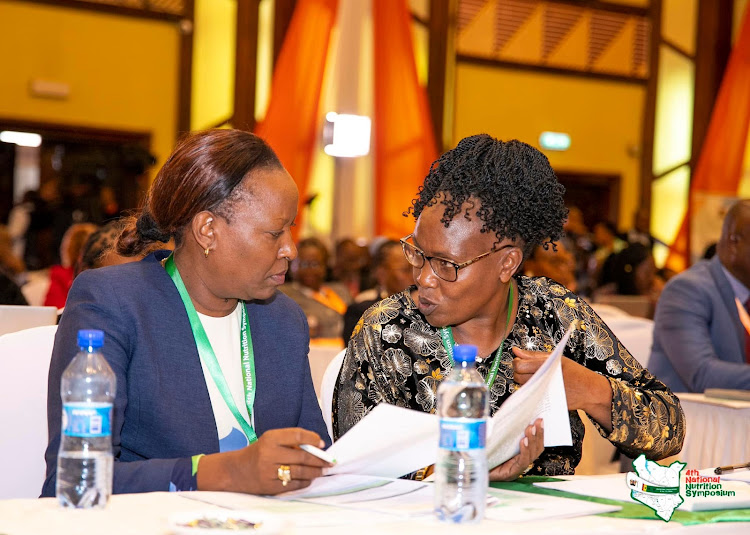 During the official opening, Dr. Mburu, shared how addressing malnutrition is crucial for not only ensuring the quality of life for all citizens but also contributing to significant economic growth. According to the 2016 Kenya Nutrition Investment Framework, every dollar invested in nutrition would yield 22 dollars (Ksh 2750) in returns.
The symposium was held in a hybrid model, with both virtual and physical participation, and featured various approaches to address the four different sub-themes: agri-food system transformation for healthy diets, digitalization and innovation for nutrition, private sector engagement in nutrition, and inclusivity in nutrition. These approaches included panel discussions, oral presentations, poster presentations, breakout sessions, and booths and gallery walks.
To conclude the symposium on an energizing and positive note, Dr. Mburu, along with other SUN stakeholders, signed a commitment to elevate nutrition on the national agenda by accelerating the establishment of a Food and Nutrition Council in the Office of the Vice President in Kenya. Finally, she presided over the launch of the national SUN Youth Network in the country, whose objective is to engage young people in nutrition advocacy to positively influence diet quality and nutrition outcomes.