Image
Pakistan approves national multi-sectoral nutrition plan
October 17, 2023 - Last update: November 6, 2023
Islamabad, Pakistan - The Government of Pakistan approved a three-year National Multi-sectoral Nutrition Programme, with an allocation of Rs. 8.50 billion (30 million USD) to combat child malnutrition and foster healthy dietary practices.
A meeting convened by the National Nutrition Forum (NNF) at the Planning Commission of Pakistan on 28 September 2023 brought together Federal ministries, provincial departments, and development partners to discuss the rollout and strengthening the program by aligning other programs and pooling in more resources.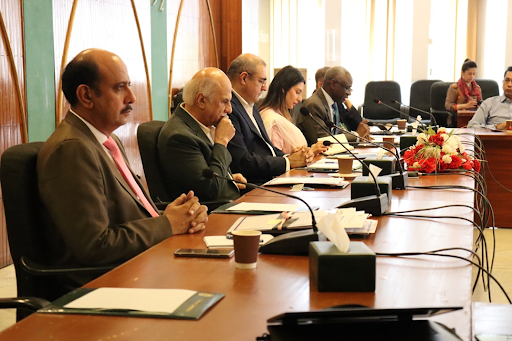 Led by the Deputy Chairman of the Planning Commission, the meeting focused on the strategic importance of nutrition in achieving the Sustainable Development Goals (SDGs).
"Nutrition is a foundation for life, essential at every stage from conception to old age," said Dr. Nazeer Ahmed, Pakistan SUN Government Focal Point.
Senior public and private sector officials put forth recommendations to strengthen coordination of nutrition and climate actions, increase financing, secure political commitment, expand life-saving interventions, and foster synergy among sectors. They also proposed running a new National Nutrition Survey, as a basis to nutrition resource pooling, encouraged to systematically apply lessons learned and adopt a holistic and multi-sectoral approach.
The Deputy Chairman recommended the establishment of a national nutrition dashboard to monitor progress and improve nutrition outcomes.