Image
UN General Assembly 2022: Scaling Up Nutrition Movement Lead Group convenes at critical time for malnutrition worldwide
October 5, 2022 - Last update: February 12, 2023
The Scaling Up Nutrition (SUN) Movement Lead Group convened last month at UNICEF Headquarters in New York City, during the United Nations General Assembly's High-Level Week, to advance nutrition impact at a critical time when climate, conflict and economic crises threaten to reverse progress to ending malnutrition. 
The SUN Movement is a country-driven multistakeholder and multisectoral movement of 65 countries and 4 Indian states to accelerate progress towards achievement of their national nutrition targets, and in so doing also support achievement of the Sustainable Development Goals. It is supported by a 24-person SUN Movement high-level Lead Group (full list below) that is appointed by the United Nations Secretary-General and has the overall responsibility for the SUN Movement's progress towards achieving its objectives.  The Lead Group includes leaders in government, business, civil society and the United Nations system. It aims to preserve the SUN Movement's unique country-driven character while being active advocates for better nutrition outcomes globally.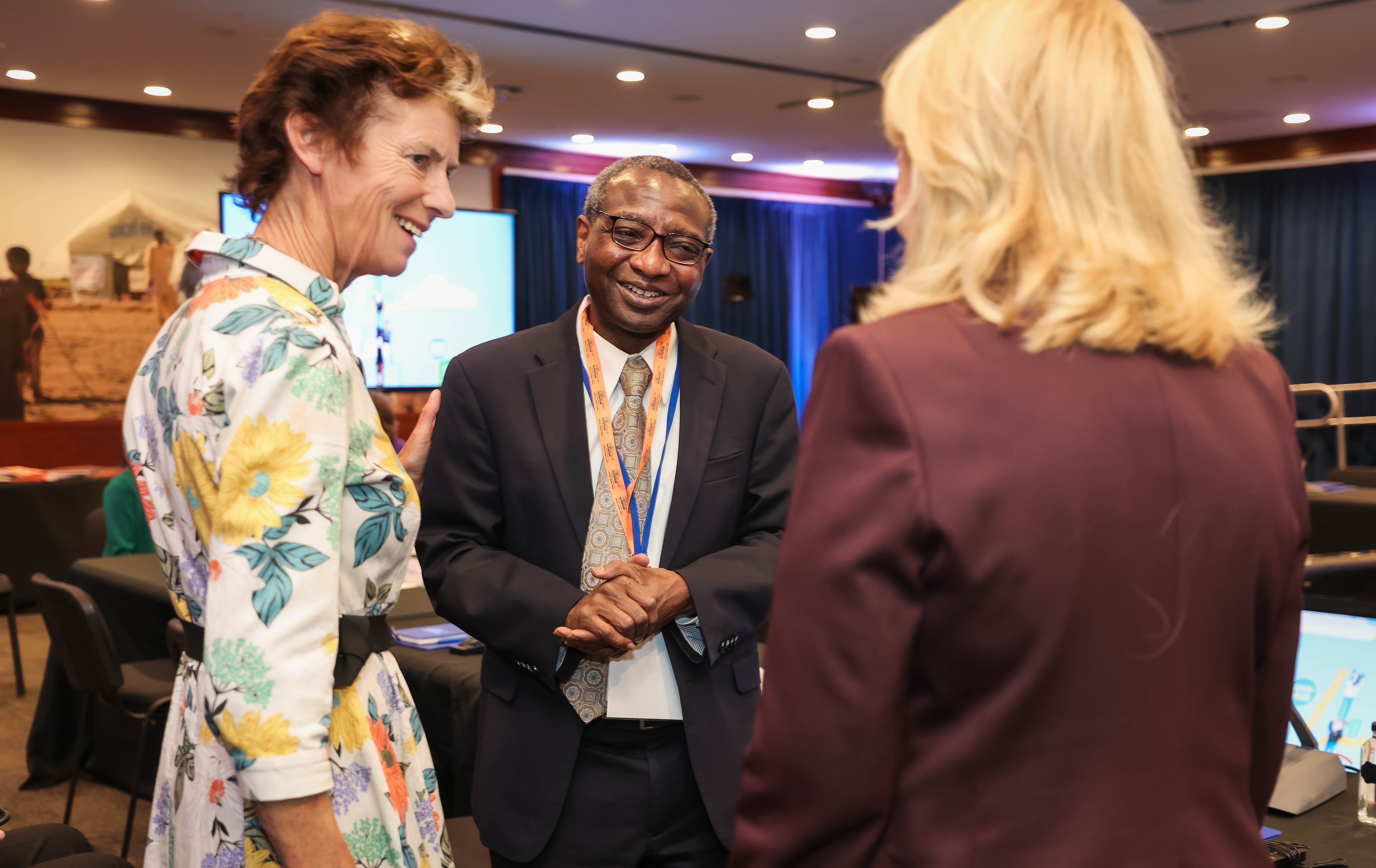 In its meeting, the Lead Group recognized the increased pressure that countries are today facing towards achievement of their nutrition targets and affirmed their shared and individual commitments to support countries.
SUN Movement Lead Group members shared their commitments, leveraging their influence and convening roles to act as vocal champions for nutrition in their work related to the multiple crises in climate, food, energy and finance; to ensure nutrition is  included on the agenda of high-level fora such as the G20 and the UN Climate Change Conferences (COP); to work together to ensure all voices, especially children, youth, women and civil society are heard at the national and local levels; to support gender transformative approaches to secure the nutrition of girls and women, who are too often hardest hit by climate and climate related shocks; to help create space for ministerial-level exchange on social protection issues and to provide cross-sectoral, multi-stakeholder support to governments to deliver long-term solutions to strengthen national systems in health, education, social protection, agriculture and food systems that support long-lasting and country owned nutrition gains.
In recognizing the critical role Lead Group members can play, the newly appointed Lead Group Chair Catherine Russell, UNICEF Executive Director, said, "The energy and commitment of these leaders will bring much needed support to SUN countries as they work to meet critical national nutrition targets. While we have made progress in reducing child malnutrition across countries and regions, that progress is being threatened by proliferating conflicts and crises -- including climate crises. We are also seeing troubling increases in overweight and obesity that are in turn driving increases in non-communicable diseases. Coming together and leveraging our collective capacity, as the SUN Movement Lead Group has done, is key to ensuring good nutrition for children, women, and communities everywhere."
United Nations Assistant Secretary-General and Coordinator of the SUN Movement Gerda Verburg, said, "I am excited to have this newly appointed and very committed Lead Group in place. The leadership and influence they bring will serve to scale up efforts across the SUN Movement in support of countries' nutrition priorities and actions."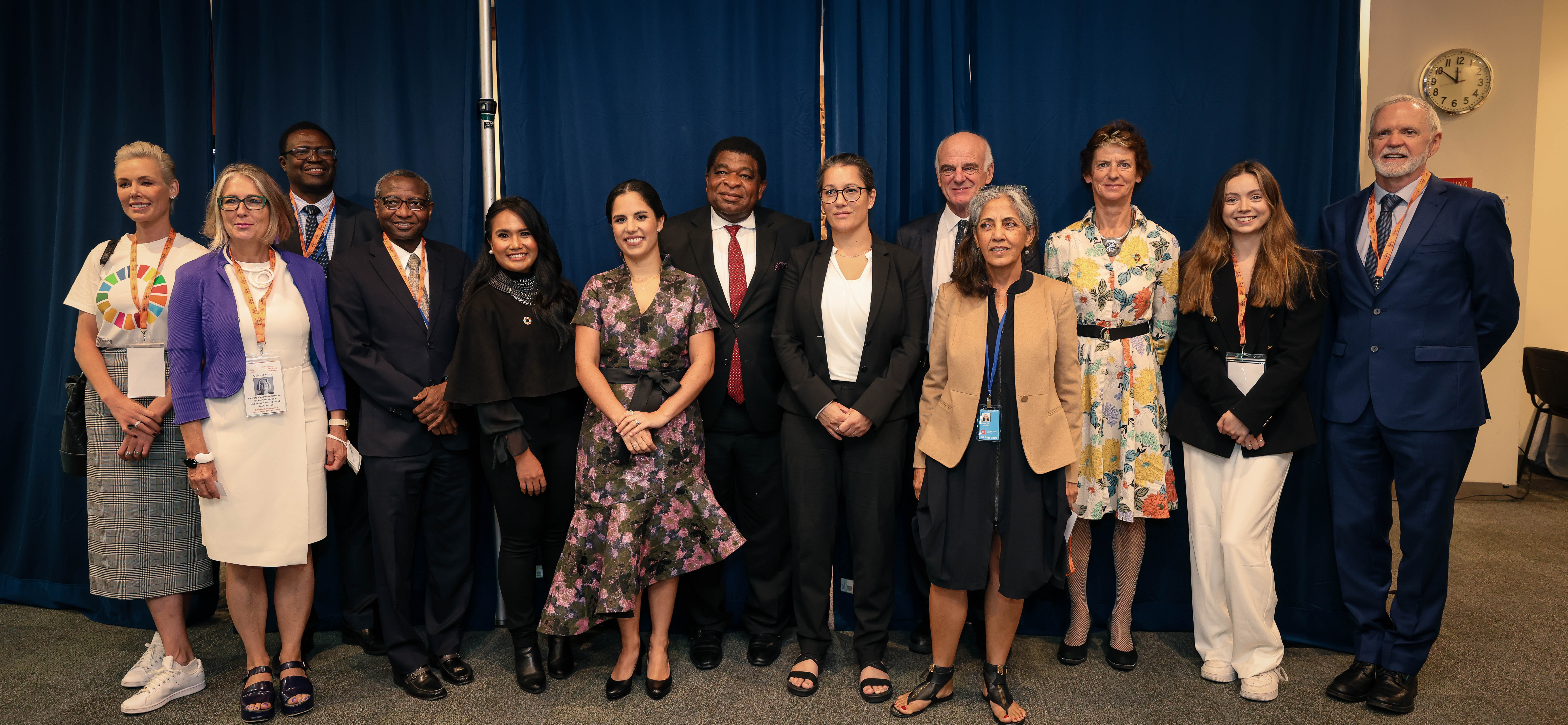 Members of the newly appointed SUN Movement Lead Group are:
Akin Adesina (Nigeria), President, African Development Bank

Reem Al-Hashimi (United Arab Emirates), Cabinet Member and Minister of State for International Cooperation

Inger Ashing (Sweden), CEO, Save the Children International

Cherrie Atilano (Philippines), CEO and President, AGREA Agricultural Systems International, Inc. 

David Beasley (USA), Executive Director, World Food Programme

Martin Chungong (Cameroon), Secretary-General, Inter-Parliamentary Union 

Pierre Cooke Jr. (Barbados), Prime Minister, Barbados Youth Parliament; Technical Advisor, Healthy Caribbean Coalition

Josefa Leonel Correia Sacko (Angola), Commissioner, Agriculture, Rural Development, Blue Economy and Sustainable Environment, African Union Commission 

Gabriela Rodriguez De Bukele (El Salvador) First Lady, Presidency of El Salvador

Githinji Gitahi (Kenya), CEO, AMREF Health Africa

Sophie Healy-Thow (Ireland), Global Youth Campaigns Coordinator, Global Alliance for Improved Nutrition

Mansur Muhtar (Nigeria), Vice President, Islamic Development Bank

David Nabarro (United Kingdom), 4SD Strategic Director, COVID-19 Special Envoy of WHO Director General, UN Global Crisis Response Group Food Workstream Co-lead

Sania Nishtar (Pakistan), Member of Senate, President, Heartfile

Ndidi Nwuneli (Nigeria), Managing Partner, Sahel Consulting

Alfredo Rimoch (Mexico), CEO, Laboratorios Liomont

Catherine Russell (USA), Executive Director, UNICEF 

Harjit Sajjan (Canada), Minister of International Development & Minister responsible for the Pacific Economic Development Agency of Canada

Inia Seruiratu (Fiji), Minister for Rural, Maritime Development and Disaster Management; Minister for Defence, National Security and Policing of the Republic of Fiji

Feike Sijbesma (Netherlands), Honorary Chairman of Royal DSM

Gunhlid A. Stordalen (Norway), Founder and President, EAT Foundation

Dr. Juan Pablo Uribe (Colombia), Global Director for Health Nutrition and Population; Director of the Global Financing Facility for Women, Children and Adolescents (GFF), World Bank

Jutta Urpilainen (Finland), Commissioner for International Partnerships, European Commission

Gerda Verburg (Netherlands), United Nations Assistant Secretary-General and Coordinator of the SUN Movement 
About the Scaling Up Nutrition Movement
The Scaling Up Nutrition (SUN) Movement is a country-led and country-driven network of member stakeholders working to support 65 SUN Countries and 4 Indian States to develop and achieve their nutrition targets. It is founded on a multistakeholder and multisectoral approach that harnesses the broad capacities of key players working to bring healthy nutrition to everyone, everywhere. It is facilitated by the SUN Movement Secretariat and four SUN Networks – the SUN Civil Society Network, SUN Business Network, SUN Donor Network and UN Nutrition – representing +4,000 organizations, +1,400 businesses, 16 UN agencies, and leading public and private sector donors.